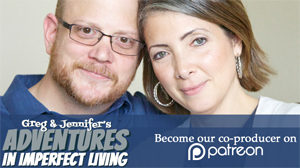 Love getting brand new Adventures in Imperfect Living each week?
Leave a tip to say thanks!
So, if you love what we do, and want to help us keep doing it, you can drop a tip in our virtual tip jar every time we create a new episode ORyou can click the Paypal button below to make a one-time tip.Everyone (whether they are a co-producer or not) gets every episode of Greg & Jennifer's Adventures in Imperfect Living ABSOLUTELY FREE! But through Patreon you can leave us a tip by simply pledging however much you want per show. Depending on how much you give, we have extra bonuses we'll send your way (see below for details). And when we hit certain goals, we'll release bonus content for all the world to enjoy!
We'd be ever so thankful for your patronage! Click below to either become an ongoing co-producer, or give a one-time tip!