This summer? It's been nuts. Take a minute and catch up with us!
In this July 2021 update we'll cover:
Recent podcasts
2021 has seen a return of incredible guests to Adventures in Imperfect Living, as well as the launch of our brand new spin-off podcast, Catechism Class.
Make sure you're subscribed to both of these shows!
Our guests so far this year have included:
Mike Aquilina,
JD Flynn from the Pillar,
Artist Jen Norton,
Fr. Donald Calloway,
Fr. Timothy Gallagher,
Dr. John Bergsma,
Rachel Balducci,
Dan Burke,
and so many more!
And just this week we released an amazing conversation with Bishop Joseph Strickland as we discuss the state of the Church today.
Stay tuned over the next couple of weeks as we share two road-casts with you (long-time listeners regularly tell us how much they enjoy when we take our recorder on the road).
An Unexpected Road Trip
Speaking of road-casts, last week we returned home after a 5-night whirlwind return trip to Colorado for the memorial service of a dear friend and former neighbor who passed suddenly after complications from surgery.
If you want to be inspired, be sure to read how our friend Tom Loveday impacted our lives in so many ways, and then check out the photoblog of our road trip.
The two road-casts will launch over the next two Mondays, so be sure you're subscribed to Adventures in Imperfect Living wherever you get your podcasts so you don't miss out.
Productivity and Sudoku
Another fun experiment we've been working on is creating different types of books on Amazon including journals and more under our new Book Nook Publishing imprint.
Here are two of our recent books we're most proud of:
Finish What You Started: The Simple 90-Day Productivity Journal for Blasting Through Tasks and Projects

The response to this project has been overwhelming! I created this book based on productivity pages I developed a year ago using various best practices and compiled 3 months worth of these pages into this conveniently sized book.
Since getting my own copy fresh off the presses, my daily productivity has skyrocketed! Others have provided similar testimonies on Amazon.
If you struggle with getting things off your to-do list each day, I encourage you to pick up a copy today!
After getting hit very hard by COVID at the beginning of 2021, I've spent most of the year dealing with the after effects of long-haul COVID, including terrible bouts of brain fog, short term memory issues, and more. In March, I picked up a Sudoku magazine and was amazed how much in helped in recovery. Since then, I've made Sudoku puzzles a part of my daily brain health regimen and have been so inspired I've started developing my own Sudoku book series. Here's the first one, now available on Amazon:

Personally, my favorite part of Brain Building Sudoku is the quality of the pages. Most Sudoku books are printed on newsprint. Try to erase one mistake and you're likely to rip the page. Brain Building Sudoku, however, is printed on super sturdy paper, erases cleanly, and the bright white pages make it easier to read. I've been so pleased by this book!
Join Our Discord Server
Another benefit for our Patreon Co-Producers is instant access to our exclusive community on Discord. Support the work we do on Patreon and join the conversation right away!
Want to Learn How to Podcast?
One last question for you. A while back many of you let me know if you'd be interested in learning how we produce our podcasts.
It's amazing to me that I launched my first podcast way back in March 2005. That's SIXTEEN YEARS AGO.
In that time, I've recorded, edited, and published literally thousands of hours of podcasts and more.
Interested in learning how I did it? Drop your details below.
I'm going to start putting together some information about the best ways to produce podcasts and sharing them with those who are interested.
Christmas (Mugs) in July
Are you one of our Patreon supporters?
If so, until the end of August, all new and existing Patreon co-producers get 25% off all purchases from our online store. This includes all of our popular Christmas and Nativity images (so now would be a great time to stock up for Christmas).
It also includes some of the top secret projects we teased above including:
Wedding Feast of Cana Mug and Prints!
After the enormously overwhelming response to last year's wraparound Nativity coffee mugs (in both color and black and white line art), I wanted to tackle one of my top five favorite stories from the Bible: The Wedding Feast of Cana.
And now, both of these mugs are available on our store (Again – Patreon Co-Producers can get these for 25% off through the end of August).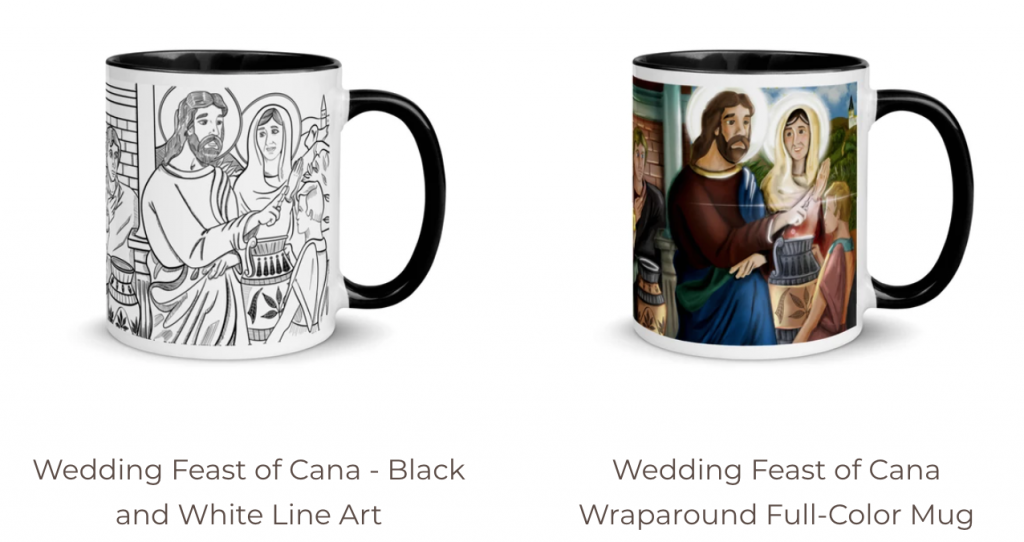 Movie Mug Collection
Another fun project from these last few months are mugs inspired by the movies Rear Window, Jaws, and Die Hard. I drew all these on my iPad and each mug has a memorable quote from the movie on one side and drawing on the other.
Check 'em out over on our store!

And that's it!
I know that was a lot for this update, and more is coming in the next few weeks.
Thanks again to all of you who support our work through purchases on our store or directly through PayPal or Patreon.