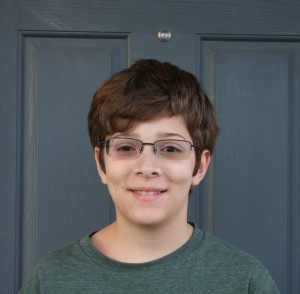 Our son Benjamin has been through quite the academic journey in public middle school.  From dealing with the shock of actually having to do his assignments to remembering to turn them in on time, it's been quite the ride.  But mostly, middle school has been rough on him emotionally.  He just didn't care to be there.  Middle school was something to endure and nothing more.  It didn't take long for his teachers to notice how disinterested Ben was from his classes.  They could easily see how profoundly unhappy he was. (Not that he tried to hide it!)  It didn't take long for his grades to suffer from his lack of engagement.
We tried band. But since it was not possible to get the highly coveted percussion assignment, he was forced to choose something else: the trumpet. He tried and tried, but he quickly began to resent that instrument and found every opportunity to avoid it. Since we had to rent it for $25 bucks a month, I was not too happy to see it unplayed so often.  We tried private tutoring sessions to help boost his confidence, but it just didn't matter.  He genuinely disliked the instrument and music all together.  The band teacher found a way for him to be transitioned out of that year long class despite the general rules of leaving kids assigned to their original schedules.  We were grateful for the end of Ben's musical misery and I was happy to get my $25.00 a month back.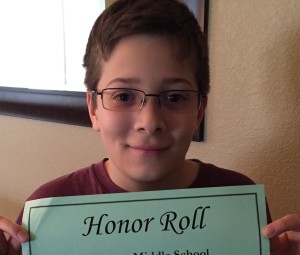 Eventually, he was allowed to participate in Drama, which showed him that school can occasionally encourage playful and silly behavior without being considered disruptive.  Slowly, he started to feel like a happy kid again. His grades were finally leaving the C and D zone and he was consistently getting more B's.  By the end of the quarter, he was rewarded with an Honor Roll certificate for his efforts at trying to improve in all his classes.
But the real prize of a class was (the super popular and tough to get into) Consumer & Family Studies, aka the cooking class.  There are never openings in that class.  Students have to be very fast to sign up for it before it gets full.  Because Ben has several teachers who care for his success, strings were pulled in all the right ways and Ben was allowed in.  To me, it was an answer to prayer. Ben needed to know that it was possible to have a few positive experiences in his school.
To our surprise, Ben not only enjoys the cooking class, he is thriving in it.  He is loving the chance to explore new recipes and getting his hands dirty in the cooking process.  This warms my heart so much because Ben has such a beautiful and unique soul.  It hurt so much to see him so sad every day after school.  You see, Ben has high functioning autism and he relates to the world around him in a very unique way.   To date, he has largely felt disconnected from his experience in public middle school.  But cooking has made him connect.
His recent cooking assignment was to tackle the German oven pancake.  The teacher demonstrated it first and the next day the kids would get the chance to make it themselves.  Ben was so enthusiastic after seeing the demonstration that he couldn't wait for the next day to try making it.  But since he was given the recipe, he thought, "Why wait for tomorrow?  Why not try making it as soon as I get home?"  Ben has never baked like this before.  He is quite adept at using the stove top, and even heating up foods in the oven, but never preparing something so raw from scratch.  I was quite happy to let him experiment and just figure it out.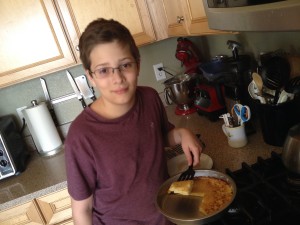 His first attempt came out very flat, much like a traditional pancake.  But we ate it and congratulated him for his accomplishment.  Secretly, he knew something was not right. It just didn't look like the one the teacher made in class earlier that day.  He would later learn that he didn't whisk the eggs enough and after having the opportunity to make it correctly at school the following day, he was ready to dazzle us at home.  And dazzle he did!
We all laughed with delight when he opened the oven door to reveal the new and improved German oven pancake in it's risen glory.  How appropriate for the Easter season of which we are still spiritually celebrating.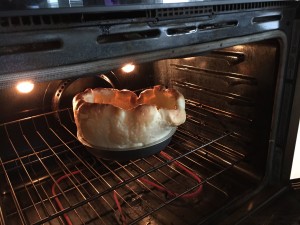 Ben was happy. We were happy.  And the German oven pancake was devoured.  I highly recommend spreading some tasty fruit preserves over it.  My personal favorite is using raspberry preserves.  Our youngest son, Tommy, was so impressed by his brother's baking skills, that he requested this pancake for his birthday breakfast this Friday, April 24th.  I think I'll commission Ben to make this delightful treat for my Mothers' Day breakfast this May.
Our Ben, the accidental baker, is now experiencing the joy of cooking and sharing. Way to go Benjamin Bunny Faces of Love and Happiness!