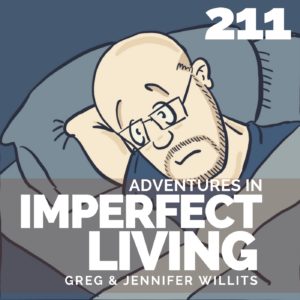 ADV #211: The Intensive Outpatient
Much love and support came to Greg and Jennifer from last week's news. We celebrated Lily's 9th birthday. Greg shared some of what he's learned from his intensive group therapy and we recite the Litany of Trust prayer.
Not sure how to listen to, download, or subscribe to a podcast?  Check out this video.
Want to leave a message for Greg and Jennifer?
Call our feedback line and leave a message of two minutes or less at 888-299-8686 or send MP3 to [email protected].
Links, books and other resources mentioned on this episode:
I Could Stay Like This All Day Long
It is a very, very, very rare thing when I am home alone.
There is always someone else in the house, making noises, talking, doing something.  That's a part of being in a large family.  And I imagine once the baby arrives in a few days, the noise will only increase.
So when I have the opportunity to just sit and do nothing, I snag it.
The kids are at school, the dog is asleep, and Jennifer is up at the Rosary Army office, snagging some paperwork so she can finish all of the end of the year tax stuff for Rosary Army before the baby arrives
So with today's show all ready to go a little over an hour from now, and quite a bit already lined up for tomorrow, I decided to put the computer aside for a few minutes and finished reading Tobit.  I never read it from beginning to end all once before.  I started it last night and finished it this morning.
Laying on the couch in a completely silent house, the hard part of today's show already behind me, finished reading the Bible for the day, it was a good way to start the morning.
Page [tcb_pagination_current_page] of [tcb_pagination_total_pages]